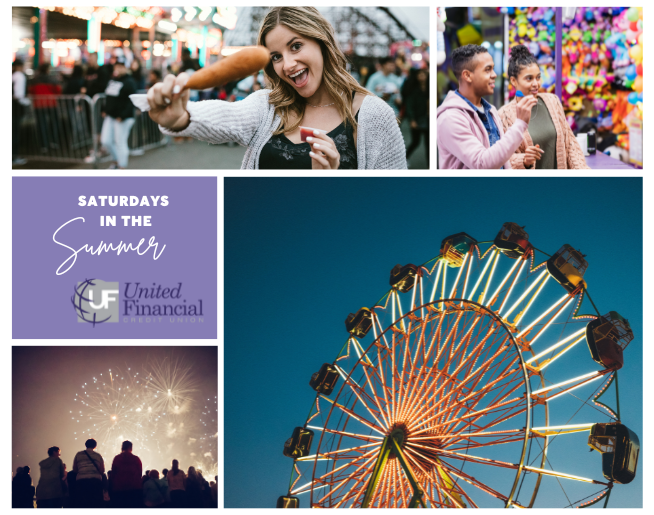 This summer United Financial Credit Union brings you the fun of Saturdays in the Summer! Catch WIOG at local events all summer with excellent chances to win from United Financial Credit Union & 102.5!
Thursday, August 10th – Big Bounce America is coming to Frankenmuth River Place Shops this weekend. 𝗧𝗵𝗲 𝗕𝗶𝗴 𝗕𝗼𝘂𝗻𝗰𝗲 𝗔𝗺𝗲𝗿𝗶𝗰𝗮, 𝗵𝗼𝗺𝗲 𝗼𝗳 𝘁𝗵𝗲 𝗼𝗻𝗹𝘆 𝗚𝘂𝗶𝗻𝗻𝗲𝘀𝘀-𝗰𝗲𝗿𝘁𝗶𝗳𝗶𝗲𝗱 𝘄𝗼𝗿𝗹𝗱 𝗿𝗲𝗰𝗼𝗿𝗱 𝗵𝗼𝗹𝗱𝗲𝗿 𝗼𝗳 𝗧𝗵𝗲 𝗪𝗼𝗿𝗹𝗱'𝘀 𝗟𝗮𝗿𝗴𝗲𝘀𝘁 𝗕𝗼𝘂𝗻𝗰𝗲 𝗛𝗼𝘂𝘀𝗲! Click here for the details.
Saturday, August 19th – Midland County Fair. Celebrate the 85th annual Midland County Fair from August 13th through the 19th! Plan your trip to the Midland County Fair.
Additional events will be announced soon!
Finance your summer with United Financial Credit Union! Get started here…