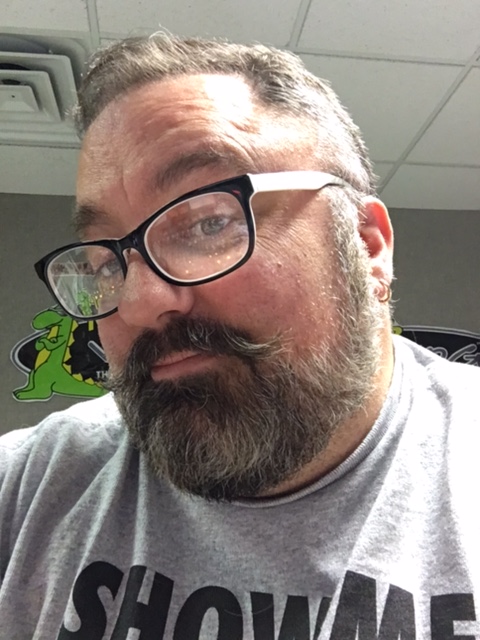 Hey it's Bob Moore and this is the start of my new Sleeve Tattoo from Voodoo Tattoo in Bay City.  I had my first appointment with Justin about 2 weeks ago which was a consultation on what I wanted giving him idea's.  He worked with me used his knowledge of tattooing and art to come up with something I really love. The first ink session was this past Saturday night and when I left I was so happy with the work.  Just look at the detail of St.Francis! The folds in the robe, I mean you can
see the stubble on his beard!  Stop by Voodoo tattoo and talk with one of the many talented artists that work there and see what they can do for you!  Stop by at 312 Lafayette Street in Bay City for Voodoo Tattoo or find them on Facebook!
CHECK OUT THE PROGRESS!
So my second session with Justin is done and Sake my cat who passes last year is on my arm!  Next up is a pagoda over the cat and apple blossom tree… the journey continues on getting a sleeve at Voodoo Tattoo in Bay City.
So this is my third session and it is starting to take shape.  You see all the green and yellow, well that is hand drawn on me by Justin.  Talk about an original tattoo, well this is it.  Look at all the detail in all of it.  It looks so good and I'm so happy, just like you will be when you stop in to Voodoo Tattoo in Bay City!!
So this was my 4th session with Justin from Voodoo Tattoo.  As you can see from the third to the fourth Justin made the tattoo come alive filling in the tree plus adding more blossoms and adding more color to the cherry blossoms.  Where will this sleeve go next?  Well one tattoo is getting laser removal to lighten it up to tattoo over.  I'll show pics of before and after when it is lightened up.  So far I've had 2 sessions of the laser with at least one more in early September.  You can see Justin's work and all of the artists at Voodoo Tattoo on their facebook page so go there now!
All About Bob
About Me: I grew up in Owatonna, Minnesota, the youngest of three kids.
College: After High School, I decided to start my career in radio at Brown College in Minneapolis.
Career: From there, I've lived in Montana two different times, a long stretch in Iowa, Northern Minnesota and now, Mid-Michigan.
Off Air Life: I'm married to a wonderful woman who grew up right here in Mid-Michigan, and my pets would include a cat named Sake and a dog named Mishu. We love to watch Movies and in the summer hang out on our deck.  Of course, I can't be without my PS4 for more than a day or two.
Favorite Movies: Braveheart, Star Wars, Animal House and all of the Bond Films.
Favorite Music: Now if you would ask me about favorite music, that is a tough one. My taste changes from day to day but I'd have to say anything from the 60's through today!
Favorite Food: White Chicken Chili (fiancées' recipe)
Favorite Drink: Love a good latté
People Say I Look Like: A gnome (I can't help being vertically challenged!!)
Favorite Quote: "You were hot 10 years ago…what happened?"
(sister in-law)
One Thing About Me People Don't Know: I used to be a good trumpet player.